"We are so pressed for space. I think we need a bigger office."
"The teacher caught Mario gazing off into space rather than paying attention during class."
"My mom always told me that in order to get ahead in life, I need to shoot for the moon"
These are just 3 of the 25 useful space idioms that we are going to take a closer look at in this post.
I hope you enjoy!
25 Space Idioms And Phrases (Meaning & Examples)
1. A (Some) Breathing Space
The first space idiom that we are going to take a closer look at is some breathing space. When a person says that they need a little (some) breathing space, it could mean one of two things. One, it could mean that they need time to rest. They need a break from something. They need to pause.
"The long weekend after the move will give me a little breathing space before I start my new job."
It could also mean that a person needs space. This could refer to space to move around or it could refer to relief from pressure or stress.
"Okay, I need everyone to take two steps back and give him a little breathing space."
2. To Be A Waste Of Space
When someone says that something or someone is a waste of space, they are saying that that person or that thing is useless, worthless, or not helpful. Usually, this term is used in a negative way.
"Those printers are a waste of space. They don't even work. Let's get rid of them and use the area for storage."
3. To Be Pressed For Space
When it is said that a person is pressed for space, it means that they don't have much area to work in or to work with. In other words, they feel like they are cramped. They need more space.
"I would love to buy some new furniture, but right now, in this tiny office, we are pressed for space."
4. Cap Space
A cap space is the amount of money a professional team is allowed to spend on players. If you hear someone say they need to free up some cap space, it means that they need make some changes in order to have more money to spend on the players.
"The basketball team had to let go of a few players to free up some cap space."
5. Free Space
Free space is a term used in physics. It is used to describe an area free of gravitational fields or electromagnetic fields.
"I looked into the telescope and was amazed by the amount of free space."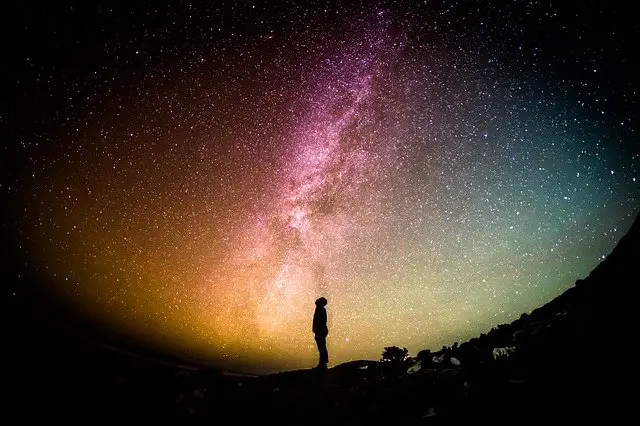 6. To Gaze/Look/Stare Off Into Space
When you say that someone is staring off into space, you are saying that they are to staring at nothing, while at the same time, thinking about something else.
"The teacher caught Mario gazing off into space rather than paying attention during class."
7. In The Space Of An Amount Of Time
The term, in the space of an amount of time, refers to a certain period of time. Oftentimes, it is used to emphasize how quickly something was done in a short amount of time.
"After the advertisement was published, in the space of one hour, I received 250 emails."
8. To Be A Space Cadet
When someone is referred to as a space cadet, they are saying that they are out of touch with reality. It can also be used to refer to someone who is always silly. It is difficult for them to take things seriously.
"I tried to have a serious conversation with John, but he is such a space cadet that it was a waste of my time."
9. To Space Out
I hope this next idiom has never been used when speaking about you because it tends to take on a negative meaning. To space out means to be or to become distracted from the present task at hand. To not pay attention to what is happening around a person.
"Sorry, I just spaced out for a moment. Can you say that last part again?"
10. To Take Up Space
To take up space refers to something that just occupies or literally fills up an area. Oftentimes it is used to say that something or someone doesn't do much more than take up an area of space. In other words, it is or they are useless. It can be used to describe someone who is lazy or doesn't do much work.
"Does Mark do anything around here? I swear that guy does nothing but take up space."
11. Watch This Space
People say watch this space to say that more information or details will be given soon.
"It is too early to tell, but watch this space for more information."
12. Failure To Launch
The term failure to launch is a common idiom used to describe a young person who is having difficulty making the transition to adulthood. For example, they may find it difficult to leave home and find a job to support themselves. Sometimes used in the phrase "failure to launch syndrome."
"How old is he? 35 years old. And he is still living with his parents? Yeah, it sounds like the classic failure to launch syndrome."
13. Something Is Not Rocket Science
When a person says that something is not rocket science, they are saying that is very easy to do, or figuring out how to do something is pretty obvious.
"I don't know why Mark is having such a hard time with those new marketing fliers. It isn't rocket science! You just need to pull up a list of people who have boughten our products over the last 5 years and send them a flier. I mean, how hard can it be?"
14. Many Moons Ago
When people say that something happened many moons again, they are saying that it happened a long time ago.
"Many moons ago, when I was a young boy, I used to love riding my bike down to the candy store after school."
15. To Be Living On Another Planet
When people say that someone is living on another planet, they are saying that they are oblivious to what is going on around them. They are out of touch with reality. Sometimes it can be used to say that one's ideas are not practical or not realistic.
"It is like Steve is living on another planet. Did he not hear her say that she doesn't want to go out with him? Then why is he going to ask her out again?"
16. To Be Out Of This World
To be out of this world is used to say that something or someone is extraordinary. It can be used to refer to something extraordinary in a positive sense and to something that is extraordinary in a negative sense.
"Have you been to the new restaurant on Main Street? The chicken wings are out of this world. We are going to go there again tonight. Do you want to come?"
"These gas prices are out of this world. Pretty soon, I won't be able to afford to drive to work"
17. Reach/Shoot For The Moon
To reach for the moon means to set very high goals to achieve something difficult.
"My mom always encouraged me to shoot for the moon. I am glad she encouraged me to do that, because I am now the CEO of one of the most successful companies in the world."
18. To Bring Someone Down To Earth
A common space idiom that you can use in just about any conversation is To bring someone down to Earth. When you bring someone down to earth it means you are trying to help a person to regain a realistic view of something. A person that is sensible, reasonable, and has a realistic view can be called down to earth.
"Jerry started to work for himself at a very early age. Without a doubt, this is what has helped to bring him down to earth and realize things aren't as easy as they seem."
19. To Thank One's Lucky Stars
When someone uses the idiom thank your lucky stars they are saying that you should express gratitude for something good that happened.
"You better thank your lucky stars that there wasn't a car coming the other way, otherwise, you could have been killed."
20. To Have Stars In One's Eyes
A very popular idiom about space is to have stars in one's eyes. When it is said that a person has stars in their eyes it means that they are to being overly optimistic. Oftentimes, overly optimistic.
"I doubt she will become a famous YouTuber. She just has stars in her eyes."
21. Once In A Blue Moon
To say that something happens once in a blue moon means that to see it happen is very rare, or it doesn't happen that often.
"Now that I live so far from home, I only get to see my extended family once in a blue moon."
22. Everything Under The Sun
Everything under the sun is used to refer to everything that a person can imagine.
"We have tried everything under the sun to get him to eat his vegetables, but nothing has worked for us."
23. A Black Hole
When someone says that something is like a black hole they are saying that is a place where things are lost or disappear.
"George's room is just a big black hole. He can never find his things in there."
24. You Don't Have To Be A Rocket Scientist To Do Something
One of my favorite space idioms is "You don't have to be a rocket scientist to….". This idiom is used to emphasize that something is extremely easy to do.
Synonym: It doesn't take a rocket scientist to do something.
"You don't have to be a rocket scientist to work at a bank."
25. To Be Over The Moon
When it is said that a person is over the moon, it means that they are extremely happy and/or excited.
"She was over the moon once when Zack asked her to the prom."
There you have it! 25 useful space idioms and expressions. Which one is your favorite?
If you enjoy this post, you may also enjoy our Idiom Of The Day page. There we post a different idiom every day. Check it out!