Are you looking for some useful idioms for being scared or afraid?
Well, if so, you have come to the right place.
In this post, we are going to look at 29 idioms for scared, what they mean and how to use them in day-to-day conversation.
Let's get started…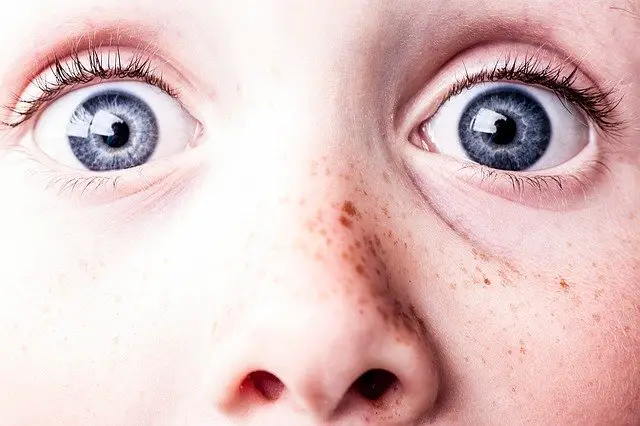 29 Idioms For Scared (Meaning & Examples)
1. To Be Afraid Of One's Shadow
Meaning: to become spooked very easily.
"I don't know if Mark would be a good night watchman, that boy is afraid of his own shadow."
2. To Get Or Give The Heebie-Jeebies
Meaning: an extreme case of worry or fear.
"I don't want to watch that movie, it gives me the heebie-jeebies."
Meaning: to frighten someone.
"Don't ever do that again! You scared the living daylights out of me. I thought you were a burglar."
4. To Send A Chill Down One's Spine
Meaning: to cause in a person feelings of excitement, nervousness, or fear.
"Can you walk to the store with me? Walking around by myself at this hour sends a chill down my spine."
5. To Be Scared Stiff
Meaning: to be so afraid one cannot move.
"John was scared stiff when he saw the porch light come on."
6. To Make One's Blood Run Cold
Meaning: to frighten a person.
"In the middle of the night Jessica saw a bug in her room and she started screaming. That scream made my blood run cold."
7. To Scare Someone Straight
Meaning: to scare a person so bad that they improve their behavior.
"His parents thought it would be a good idea to show him pictures of what smoking can do to a person. It worked! It scared him straight and he never smoked another cigarette again."
8. Yellow
Meaning: to be called yellow means to be called a coward.
" Joe says your yellow. Are you going to take that from him?"
9. To Be Scared To Death
Meaning: to be very frightened.
"Luke came running out of nowhere and it nearly scared me to death."
10. Get/Give Goosebumps
Meaning: to get bumps on one's skin due to their hair standing up. It is usually caused by feeling cold, feelings of anxiety, nervousness, or fear.
"Walking around this part of New York City gives me goosebumps."
11. To Scare One Out Of A Year's Growth
Meaning: to be seriously frightened to the point that hyperbolically it could affect how long one will live.
"Mario jumped out of the bushes and gave her a hug. That really scared her out of a year's growth."
12. To Shake / Tremble Like A Leaf
Meaning: to literally shake or tremble because of fear.
"As he stood up to the bully, I could see Jason shaking like a leaf."
Meaning: to completely frighten someone.
"Don't do that to your little brother! You scared the pants off him."
14. To Run Scared
Meaning: to become afraid or to panic because of fear.
"The stock market crash has many people running scared."
You may also enjoy reading: Idioms For Feeling Nervous (Examples & Definitions)
15. One's Heart Misses A Beat
Meaning: used to describe when a person has a strong emotional reaction. Usually caused by fear, excitement, or nervousness.
"I felt my heart miss a beat as the teacher called me to the front of the room."
16. To Scare One Out Of One's Wits
Meaning: to frighten someone very much.
"I was scared out of my wits when I looked out the window and saw my car being stolen."
17. A Chicken
Meaning: a coward.
What are you a chicken? Come on, I really want to go on this roller coaster.
18. To Scare Silly
Meaning: to really scare someone.
That earthquake in the middle of the night scared me silly.
19. To Be Quaking / Shaking In One's Boots (Shoes)
Meaning: to literally be trembling or shaking because of fear.
I was shaking in my boots when my name was called from the platform.
20. To Jump Out Of One's Skin
Meaning: to flinch as a result of being startled by someone or something.
Sam jumped out of his skin when he heard a strange noise in the kitchen.
21. To Break Out In A Cold Sweat
Meaning: to become frightened or to begin to sweat due to fear.
I broke out in a cold sweat the second I walked into the principal's office and my teacher was sitting there.
22. To Have A Yellow Streak Down One's Back
Meaning: the tendency to become easily frightened.
She may act confident, but she has a yellow streak down her back.
23. To Have A Pit In One's Stomach
Meaning: usually a physical response to a strong emotion such as anxiety or fear.
Matt suddenly had a pit in his stomach as he approached the microphone.
Meaning: used to describe a person that doesn't get frightened easily.
No matter what you do, you can't scare George. I swear he has nerves of steel.
25. To Whistle In The Dark
Meaning: to pretend one is not afraid in a scary situation.
Jennifer appears not to be afraid, but we know she is just whistling in the dark. Public speaking is her nightmare.
26. To Be Scared Witless
Meaning: to really scare a person.
Daisy was scared witless when she heard a loud knock at the door.
27. I Wasn't Brought Up In The Woods To Be Scared By Owls
Meaning: to not be easily frightened by someone or something.
I am not afraid of Eric. I wasn't brought up in the woods to be scared by owls.
28. To Take Cover
Meaning: to hide from something. It can mean to hide for protection or it can mean to hide because one feels afraid.
Everytime my dogs hears thunder he instantly runs to take cover.
29. To Chicken Out
Meaning: to not do something because one is afraid. Usually when a person chickens out they back out at the last minute.
After Matt saw just how big the roller coaster was he chickened out and he no longer wanted to ride the roller coaster.
There you have it! 29 idioms for scared. Which one is your favorite?
If you enjoy this post, you may also enjoy our Idiom Of The Day page. There we post a different idiom every day. Check it out!