Are you looking for some interesting idioms that can be found in songs?
If so, you have come to the right place.
In this post, we are going to look at some everyday idioms in popular songs.
Let's get started.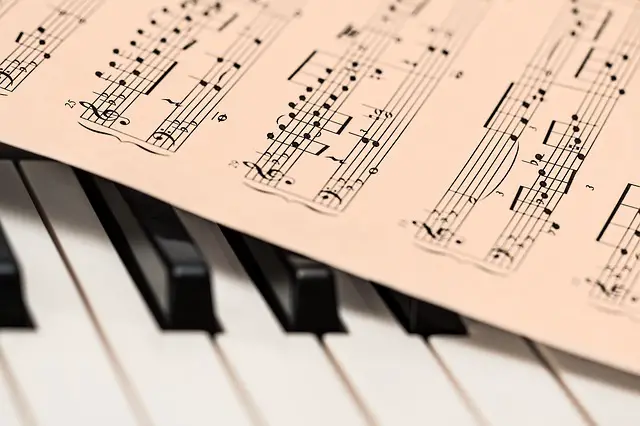 26 Everyday Idioms & Phrases In Songs
1. To Take One's Breath Away
Song: Take My Breath Away
Artist: Berlin
Meaning: To cause a person to feel a sense of astonishment, surprise or even awe to the point that they figuratively can't breathe.
Use In A Sentence: The movie was so beautiful it took my breath away.
2. An Open Book
Song: My Heart Is An Open Book
Artist: Dean Martin
Meaning: Something that is easy to understand or it can be used to describe a person that is open and honest; no secrets.
Use In A Sentence: Ask me any question, I am an open book.
3. Jet Set
Song: Yummy
Artist: Justin Bieber
Meaning: a group of rich people that travel the world to enjoy themselves. For example, visiting popular resorts, etc.
Use In A Sentence: She will spend her summer jet setting to Europe's most popular vacation hotspots.
4. To Break The Mold
Song: Underdog
Artist: Alicia Keys
Meaning: to do something in a unique way. It can also refer to a person that is unique; not comparable.
Use In A Sentence: She broke the mold with her new innovative way to approach business meetings.
5. To Promise One The World
Song: Lose You To Love Me
Artist: Selena Gomez
Meaning: to make someone a promise that is very difficult or impossible to keep.
Use In A Sentence: He promised her the world before they got married.
6. To Keep One's Distance
Song: If I Can't Have You
Artist: Shawn Mendes
Meaning: to stay away from someone. To limit one's association with that person.
Use In A Sentence: Ever since he got into an argument with her, he has been trying to keep his distance.
7. To Dive Into Something
Song: Perfect
Artist: Ed Sheeran
Meaning: to start something very enthusiastically without giving it much thought.
Use In A Sentence: She couldn't wait to get home and dive right into her new book.
8. To Go Off The Deep End
Song: Shallow (A Star Is Born)
Artist: Lady Gaga, Bradley Cooper
Meaning: to be crazy, to overreact. To all one's emotions to take over.
Use In A Sentence: I heard him yelling at the police last night about not getting his newspaper. I think he has really gone off the deep end.
9. To Wear One's Heart On One's Sleeve
Song: Beautiful Crazy
Artist: Luke Combs
Meaning: to openly display one's emotions.
Use In A Sentence: You will know how she feels because Megan wears her heart on her sleeve.
10. In Your Wildest Dreams
Song: Wildest Dreams
Artist: Talyor Swift
Meaning: Something that seems impossible, but one hopes that it will one day become a reality.
Use In A Sentence: Never in my wildest dreams did I think I would get to travel to Europe.
11. What You See Is What You Get
Song: What You Get Is What You See
Artist: Tina Turner
Meaning: There is nothing hidden. You get exactly what you see.
Use In A Sentence: Does this product come with any additional accessories? No, what you see is what you get.
12. Hit Me Up
Song: Made You Miss
Artist: Maddie Poppe
Meaning: to contact someone, usually to ask for a favor.
Use In A Sentence: She gave him her number and told him to hit her up sometime.
13. To Turn Out
Song: Haven't Met You Yet
Artist: Michael Buble
Meaning: to achieve the results one had hoped for. To work out in one's favor. Satisfactory results.
Use In A Sentence: After working on the house for 6 months, I am happy with how it turned out.
14. To Get Someone Wrong
Song: Honey, I'm Good.
Artist: Andy Grammer
Meaning: to misunderstand someone.
Use In A Sentence: Don't get me wrong, I really appreciate the gesture, but we can't accept that gift.
15. To Be Under The Impression
Song: Better Together
Artist: Jack Johnson
Meaning: to be living with that idea that something is true.
Use In A Sentence: I was always under the impression that Mario didn't get along with Kate.
16. Like A Moth Drawn To A Flame
Song: Stitches
Artist: Shawn Mendes
Meaning: to be attracted to something or someone very strongly.
Use In A Sentence: We brought out the ice cream and the children came running like moths drawn to a flame.
17. To Run Around In Circles
Song: Circles
Artist: Post Malone
Meaning: to achieve very little or even nothing despite one's hard work. To get very little work done.
Use In A Sentence: I had planned on getting a lot of work done this afternoon, but my mind was so busy thinking about everything else that I just kept running around in circles.
18. To Drop A Bombshell
Song: Secrets
Artist: Raye
Meaning: to reveal something that is surprising or unexpected.
Use In A Sentence: You have a new boyfriend? You can't just drop a bombshell like that and walk away. So, tell me, who is your new boyfriend?
19. To Be Out Of Sight
Song: Dancing In The Moonlight
Artist: Jubel
Meaning: to be too far away to be seen. Hidden from vision.
Use In A Sentence: When walking around at night it is always wise to keep your valuables out of sight.
20. To Beat (Something) To Death
Song: Closer
Artist: The Chainsmokers
Meaning: to talk about a topic so long or so much that it is no longer interesting.
Use In A Sentence: Okay, I think we have beat this topic to death, let's move on to something else.
21. To Go Off The Deep End
Song: Shallow
Artist: Lady Gaga
Meaning: to go crazy. To become irrational or angry.
Use In A Sentence: The first time I met him, I thought he had gone off the deep end. Now after getting to know him, I feel like I understand how he feels.
22. To Show What One's Made Of
Song: Meant To Be
Artist: Bebe Rexha
Meaning: to demonstrate one's true ability or one's true personality.
Use In A Sentence: Going through that trial alone really showed what Matt is made of.
23. Out Of The Blue
Song: Someone Like You
Artist: Adele
Meaning: when something happens unexpectedly.
Use In A Sentence: I haven't heard from him in years and then he shows up at my house out of the blue.
24. To Fall Flat
Song: Piece By Piece
Artist: Kelly Clarkson
Meaning: to fail miserably. To not produce the desired results.
Use In A Sentence: I didn't think the comedian was funny. Some of his jokes just fell flat. No one even laughed.
25. To Catch's One's Breath
Song: Have It All
Artist: Jason Mraz
Meaning: to relax. To take a break.
Use In A Sentence: I've had just a busy day, I am just going to sit down and try to catch my breath.
26. To Blow Up One's Phone
Song: Chandelier
Artist: Sia
Meaning: to repeatedly call or text someone.
Use In A Sentence: I haven't been able to get anything down. My phone has been blowing up all morning.
There you have it! 26 idioms in songs.
Which one is your favorite? Please share your thoughts in the comments below.