"I need a stiff drink."
"He is at the bar drinking some Dutch Courage."
"Jared needs to stop hitting the sauce and be a responsible adult."
"Tom is pretty quiet, but after a few tongue looseners, he will open up."
Have you heard of those drinking idioms before? If not, that's okay.
In this post, are going to look at some idioms about drinking. We are also going to talk about what they mean and how you can use them in a sentence.
Let's get started!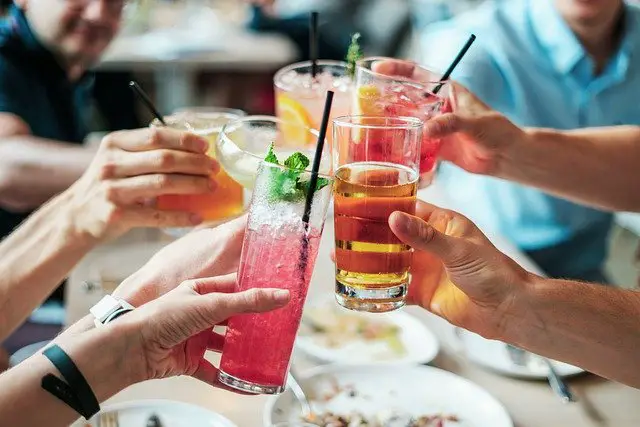 20 Drinking Idioms (Examples & Definitions)
Amber Nectar
We are going to start this list of drinking idioms, with a simple one, Amber Nectar. If you hear a person referring to a drink as an Amber Nectar, they are referring to a beer. Especially a lager which is known for its light amber colors.
"Man, it is hot outside! All I want to do is sit under the tree and enjoy a nice cold Amber Nectar"
To Slam Beer
To slam beer means to drink a lot of beer, especially in a short about of time. You can also express the same idea with the expressions, pound beer, to hammer a beer, or to slam back a drink. It comes from the idea of slamming down the glass on the bar after finishing the drink.
"During college, he spent most of his weekends at home slamming beer. Not the smartest way to spend your time."
The Hair Of The Dog That Bit You
The hair of the dog that bit you refers to an alcoholic drink that one consumes in order to get over a hangover. The idea is that a little bit of alcohol the next day will help one get over the discomfort of drinking too much the previous night.
"Joe drank way too much last night. A little hair of the dog should do the trick. He should be feeling better in no time."
You may also enjoy reading: 13 Black Idioms (Examples & Definitions)
To Be Able To Hold One's Liquor
A person who has a high tolerance for alcohol can be called someone who can hold their liquor. It means they can drink a lot of alcohol without becoming intoxicated.
"Frank has already had several shots and yet he is totally fine. Man, that guy can hold his liquor."
To Liquor Up
We say that someone is liquoring up when they are drinking alcohol with the aim of getting drunk.
"I don't think they have the best intentions. I think they just want to liquor up for the evening."
To Have Had A Few Too Many
To have had a few too many is an indirect way to say that someone has had several alcoholic drinks, usually to the point of becoming intoxicated.
"Jared is acting really weird, I think he has had a few too many."
A Stiff Drink
A stiff drink is a strong alcoholic drink. In other words, one that is not mixed with other beverages.
"I need a stiff drink. It has been a long work week. Give a straight whisky."
To Wet One's Whistle
If you hear someone say that they just want to wet their whistle. It means they want something to drink. It doesn't necessarily mean that they want an alcoholic beverage.
"I am really thirsty. I am just going to grab something real quick to wet my whistle."
You may also enjoy reading: 14 Idioms For Having A Good Time
To Nurse One's Drink
Generally, the phrase, to nurse something, gives the idea of doing something slowly. With that being said, to nurse one's drink means to consume it rather slowly. When used in the context of alcohol, it gives the idea of drinking slowly so as not to get drunk.
"Cocktails are expensive. I think I will just nurse this drink instead of buying several drinks tonight"
Dutch Courage
The origin of the next drinking idiom is pretty interesting. It is said that in the 1600s, in order to calm themselves down for battle, English soldiers would drink dutch gin. Thus Dutch Courage became another word for liquor. It can also refer to the false sense of courage one gets after drinking alcohol.
"It is Friday night, where is Matt?" "He is at the bar drinking some Dutch Courage."
To Paint The Town Red
To paint the town red means to go downtown and have a good time. It usually refers to going to bars or restaurants. Usually, drinking alcohol and dancing are involved.
"Hey Tom, do you have any fun plans for the weekend? Well, we had such a successful work week that we plan to go out and paint the town red this weekend!"
Drinks Are On Me
This next drinking idiom always gets my readers excited. If you hear someone say "the drinks are on me" they are saying that they are going to pay for the drinks. Free beer!
"Hey everyone, today was my first payday, so drinks are on me tonight."
To Be (To Get) Hammered
To be hammered simply means to be very intoxicated. To be very drunk.
"I am not sure what they young people are doing in the street, but I think they are all hammered"
To Fall Into The Drink
Is it important to note that not all drink idioms are about the act of drinking. For example, to fall into the drink simply means to fall into a body of water. In this context, drink means water.
"Last time we were here you fell into the water and you were soaking wet for the rest of the day. Please be careful this time not to fall into the drink ."
Pick/Choose Your Poison
This next drink idiom sounds deadly, but I promise you it isn't. If someone tells you to pick your poison, they are telling you to choose your favorite alcoholic beverage.
"I will buy the first round this time, so pick your poison. I really like the Long Island Ice tea."
To Spike One's Drink
If you hear someone talking about this next drink idiom, please be careful. To spike a drink means to mix drugs into someone's alcoholic drink, without them being aware of it. Someone who does this has bad intentions of taking advantage of that person in some way.
"The police are still looking into who spiked her drink. They think it was somebody at the bar, but they aren't sure."
You May Also Enjoy Reading: 11 Pig Idioms (Examples & Definitions)
A Tongue Loosener
The next drink idiom, always gets my readers to laugh. After having several alcoholic beverages, a person feels pretty relaxed. Perhaps they talk more than they normally would. It is like your tongue is loose. You are less restrained. For that reason, a tongue loosener is a slang expression for alcohol.
"Tom is pretty quiet, but after a few tongue looseners, he will open up."
To Drink Up
To drink up is a fun idiom. It simply means consuming all of one's beverage. In other words, finish your drink! Enjoy your drink!
"I really like this juice." "Well drink up because we have more juice if you'd like."
To Hit The Sauce
Another slang expression for drinking is to hit the sauce. The sauce is an informal way to refer to alcohol. To hit the sauce means to drink alcohol. Once again, it is important to note that this is an informal way to refer to consuming alcohol.
"Jared needs to stop hitting the sauce and be a responsible adult."
One More For The Road
This next drinking idiom is commonly heard in American songs. (particularly in country songs 🙂 ) To have one more for the road means to have one more drink before leaving a place such as a restaurant or a bar.
"Let's have one more for the road and then we will head home."
There you have it! 20 Drinking Idioms, which one is your favorite? Please share your thoughts in the comments below.